Windows 11 is a major version of the Windows NT operating system developed by Microsoft that was announced on June 24, 2021, and is the successor to Windows 10, which was released in 2015. Windows 11 was released to the public on October 5, 2021, as a free upgrade via Windows Update and Windows 11 Installation Assistant on eligible devices running Windows 10.[6]
Today marks an exciting milestone in the history of Windows. As the day becomes October 5 in each time zone around the world, availability of Windows 11 begins through a free upgrade on eligible Windows 10 PCs and on new PCs pre-installed with Windows 11 that can be purchased beginning today.
Windows is a driving force for innovation. It's an enduring platform for each one of us to create. And its home for over a billion people to do their jobs, live their dreams and connect with the people they love.
We're pumped to be launching Windows 11; the entire user experience brings you closer to what you love, empowers you to produce and inspires you to create. Windows 11 provides a sense of calm and openness. It gives you a place that feels like home. It's secure and everything is designed to be centered around you.
To fully understand the magic of Windows 11 you must get it in your hands. The gorgeous graphics, sounds and animations of Windows 11 along with the innovative and beautiful hardware from our partners and Surface provides an experience like none other.
There's never been a better time to buy a PC
As we look to next year and beyond, whether it's to work, create, connect, learn or play, the PC will continue to play a relevant and lasting role in our lives.
Throughout the month of September, we've seen some amazing new Windows 11 devices announced from our partners at ASUS, HP and Lenovo, and from the Surface team. Acer, Dell, Samsung and other partners will also be releasing new Windows 11 devices soon.
Each one of our partners is critical to bringing Windows 11 to life. No other ecosystem has the breadth and scale that the Windows ecosystem does to meet the needs of people whether they're creators, developers, students and educators, business and gamers at every price point and in every form factor.
Here's how you can get Windows 11:
Purchase a new PC pre-installed with Windows 11 by visiting Windows.com or your local retailer Purchase a Windows 10 PC that's eligible for the free upgrade by visiting Windows.
com or your local retailer Use the PC Health Check app to check if your current Windows 10 PC is eligible for the free upgrade If you're interested in learning more about the Windows 11 upgrade roll out approach, visit this Windows Blog post We're proud to offer Windows 11 on the widest array of choice in devices, form factors and silicon from our valued partners at Acer, AMD, ASUS, Dell, HP, Intel, Lenovo, Qualcomm, Samsung and Surface.
Check out some of the incredible new PCs that have recently been introduced:
The eco-friendly Acer Aspire Vero features post-consumer recycled plastic throughout the chassis and keyboard, 100% recyclable packaging and up to IntelCore i7 The ASUS ProArt Studiobook Pro 16 OLED, a powerful laptop that can handle complex CAD models, 3D product design or high-resolution video editing The HP ENVY 34 All-in-One Desktop PC is made for creators by creators, with an incredible ultra-wide 5K display that brings to life Windows 11 Snap Layouts to easily view multiple apps side by side, along with the world's first detachable magnetic camera with 16 MP binning technology for collaboration where and how you want it.
The Lenovo Yoga Slim 7 Carbon also offers Wi-Fi 6 and an infrared (IR) camera with an electrical shutter switch so you can take advantage of the hands-free Windows Hello Surface Laptop Studio, a fresh take on our powerhouse laptop, featuring a new ultra-durable Dynamic Woven Hinge, allowing it to transition from one mode to another seamlessly And be sure to follow the Windows Experience Blog for more exciting announcements coming soon Now, we'd also like to share some of the highlights of this release with you.
Bringing you closer to what you love
Windows 11 brings you closer to what you love and is designed with you at the center.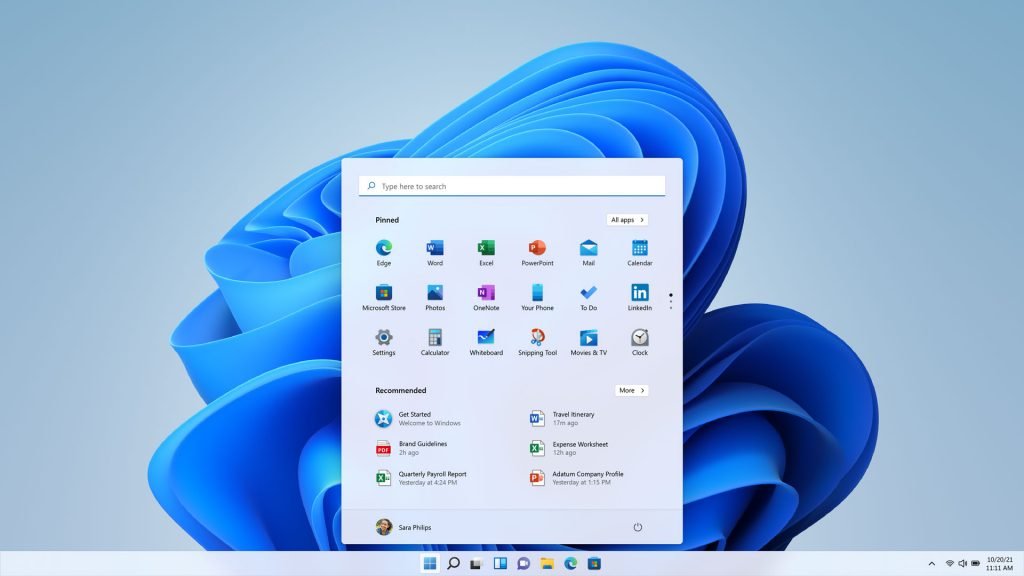 From the new Start menu and Taskbar, to each sound, font and icon you see, the team thought through every pixel and detail to bring you a more modern, fresh and beautiful experience. With Start at the center you have quick access to the content and apps you care about and through the power of the cloud and Microsoft 365 (sold separately) you can see recent files you've been working on regardless of which device you were using, even if it was an Android or iOS device.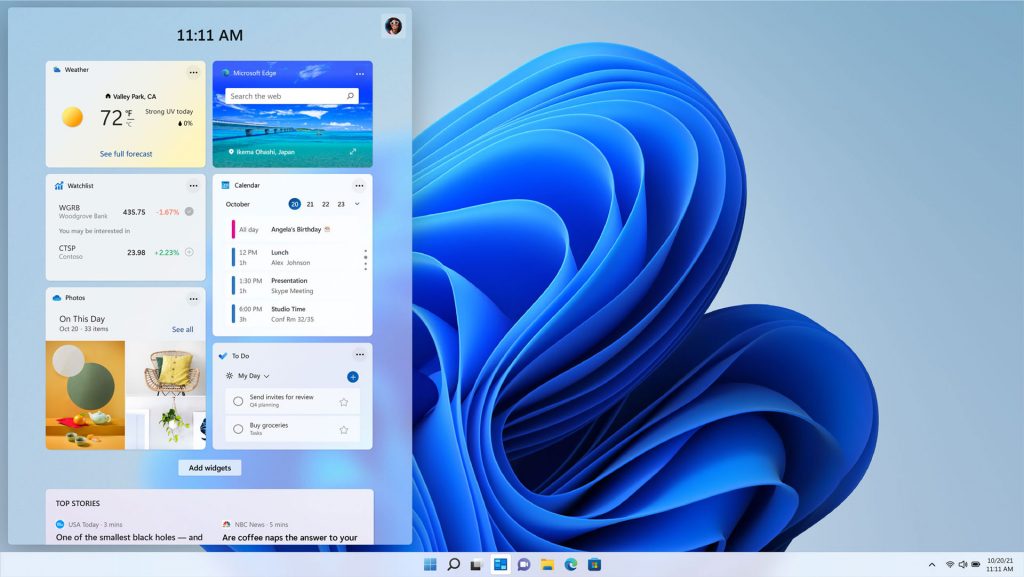 7 new features included in Windows 11 :
Here are a few of the standout new features in Windows 11: A new, more Mac-like interface. Windows 11 features a clean design with rounded corners, pastel shades and a centered Start menu and Taskbar.
Integrated Android apps. Android apps will be coming to Windows 11 via the Amazon Appstore, which will be accessible from within the updated Microsoft Store. There were a couple of ways to access Android apps on Windows 10, especially if you had a Samsung Galaxy phone, but this will make it native. (Note that Android apps will not be available upon the initial release of Windows 11.) Widgets. While they've been around for a while (remember desktop gadgets on Windows Vista?), including in a recent Windows 10 update, you can now access widgets directly from the Taskbar and personalize them to see whatever you'd like. Microsoft Teams integration.
Teams is getting a face-lift and is pinned on the Windows 11 Taskbar, making it easier to access (and a bit more like Apple's FaceTime). You'll be able to access Teams from Windows, Mac, Android or iOS. Xbox tech for better gaming. Windows 11 will get certain features found in Xbox consoles, like Auto HDR and DirectStorage, to improve gaming on your Windows PC. Better virtual desktop support. Windows 11 will let you set up virtual desktops in a way that's more similar to MacOS, toggling between multiple desktops for personal, work, school or gaming use.
You can also change your wallpaper on each virtual desktop. Easier transition from monitor to laptop, and better multitasking. The new OS includes features called Snap Groups and Snap Layouts — collections of the apps you're using at once that sit in the Taskbar, and can come up or be minimized at the same time for easier task switching. They also let you plug and unplug from a monitor more easily without losing where your open windows are located.
Can I still download Windows 11 even if my computer isn't compatible?
Potentially. Even if your Windows 10 computer lacks some of the requirements for upgrading to Windows 11, you may still be able to manually download an unsupported version of the OS. The process would be similar to how many people could manually download Windows 10 free of charge. However, this version likely won't be eligible for updates from Microsoft.
How do you upgrade to Windows 11?
Once Windows 11 becomes generally available, you'll download it the same way you would any new version of Windows. Most users will go to Settings > Update & Security > Windows Update and click Check for Updates. If available, you'll see Feature update to Windows 11. Click Download and install. Remember that Microsoft is rolling out the operating system gradually, so don't panic if you don't see the option on Day 1. Here's more information on how to download Windows 11. If you haven't yet upgraded to Windows 10, you may still be able to download Windows 10 free, too — here's how.
Is Windows 11 free to download?
If you're already a Windows 10 user, Windows 11 will appear as a free upgrade for your machine. For more, check out every feature we wanted in Windows 11 but didn't get, everything to know about the Windows 10 May 2021 update, the best Windows 10 hidden features we've found and six simple security changes all Windows 10 users need to make.
Windows 11 vs. Windows 10: Everything Microsoft changed in the new OS
Microsoft's new operating system has started to roll out. Before you download Windows 11, here's every major upgrade compared to Windows 10.
Microsoft's new operating system, Windows 11 (it's first big upgrade since Windows 10 in 2015), started its phased rollout earlier this month. While only some PCs received the update prompt, you can still download Windows 11 to your device now, as long as meets eligibility requirements. If you already have Windows 10, Windows 11 will be available to you as a free upgrade. But you may be wondering what's changing, and if it's worth downloading right away.
Even if you don't have Windows 10 yet (you'll have to get it before you upgrade to Windows 11), it's a good question. You have at least until 2025 to make your decision, when Microsoft says it will no longer support Windows 10. Before you install the new OS, let's go over the big changes Microsoft made and dig into what's really different. Here's everything that's changed from Windows 10 to Windows 11. And make sure you check out our favorite Windows 11 features and how to use them — along with everything we wanted in Windows 11 but didn't get and how to set your default search engine.